President – Betty Freeman Fisher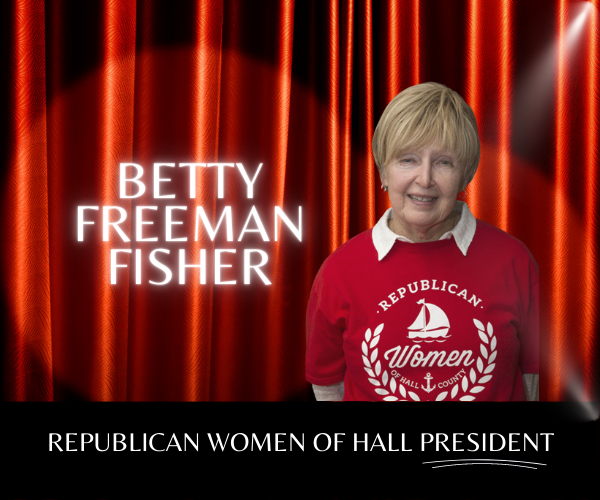 First, let me take this moment to "Thank You" for your support and loyalty to the Republican Women of Hall County (RWH) in the past.
We have had many success stories in the past three years, including being named a "Diamond Club" at the National Federation of Republican Women Bicentennial in Orlando, in September 2021, the highest award you can receive in Republican Women. We had the honor of all tier-one Candidates speaking at our meetings in 2022. RWH is the only club that has two meetings each month, Saturday morning and Monday night. We hosted The Forum, the first time ever in North Georgia, on April 2, 2022, at the Gainesville Civic Center. We leased the entire building. The Forum was jointly produced with seven GOP Clubs, and the Forsyth County Republican Women. It achieved what it was designed to do: 42 candidates under one roof and 1,000 cars parked averaging 2 people per car equaling 2,000 attendees. We consider that a win under anyone's terms! Not only a win in attendance but also the first time ever Republican Women Clubs worked with numerous GOP Clubs around the state.
The Republican Women of Hall have many plans to "get out the vote" for the November 5, 2024, elections. In order to do this, we plan to invite persons of knowledge and experience to our meetings for direction.
The Republican Women of Hall will celebrate our "10th" Year Anniversary, on August 12, 2023. Please mark your calendars now and plan to be with us for this momentous occasion.

Betty Freeman Fisher,
President, Republican Women of Hall
---
Executive Committee
President - Betty Freeman Fisher    
Vice President - Sandie Denison 
Recording Secretary - Maribeth Kennedy 
Communications Secretary - Gail Kokaly 
Treasurer - Judy Sartain
Assistant Treasurer – Patty McIntosh-Mize
Membership Chairwoman – Marsha Dickey
Bylaws Chair - Dottie Krull
Immediate Past President - Theresa Webb
---
Members of the Board:  Officers and Standing Committee Chairs
President - Betty Fisher
Vice President - Sandie Denison
Recording Secretary - Maribeth Kennedy
Communications Secretary - Gail Kokaly
Treasurer - Judy Sartain
Assistant Treasurer - Patty McIntosh-Mize
Membership Chairwoman - Marsha Dickey
Bylaws Chair - Dottie Krull
Immediate Past President - Theresa Webb
Hospitality/Social Event - Daphne Miller, Martha Ramsey
Caring for America - Charlene DeWitt, Daphne Miller
Fundraising - Martha Zoller, Debbie Roseberry-Odom
Events – Debbie Loveless
Campaign Activities - 

Open

Publicity - 

Open

Communications Website - Marsha Dickey, Sandie Denison, Maribeth Kennedy
Publications - Cheryl Thompson
Advocacy - 

Open

Video Promotions -

Open

Hispanic Outreach - Carli Eli
Historian – Judy True
Advisory Board - Debbie Roseberry-Odom, Darla Eden, Judy Sartain - Advisory Board
Education -  Martha Ramsey (Banks), Deb Loveless (Jackson) Betty Fisher (Lumpkin & Hall)
Parliamentarian (nonvoting) – Dottie Krull    Chaplain(nonvoting) – Cheryl Thompson